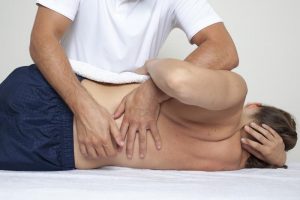 At Appleton Chiropractic Center in Pompano Beach Florida, adjacent to Fort Lauderdale, we offer the latest technologies in the diagnosis and manipulative treatment of misaligned joints. While we work with the spinal column and the back, there are many nerves, muscles, and organs that are rooted in the spinal cord. If you have injured your back or joints, we can provide you with the physical therapy you need in Pompano Beach.
When you come into our Pompano Beach chiropractic office with discomfort, we provide you with a hands-on approach of examining your injury. Once your condition is diagnosed, Dr. Appleton will steer you in the right direction towards alleviation. While we are trained to offer therapeutic exercises, dietary advice, and lifestyle counseling, we will provide our clients with their best option of care even if it is not chiropractic care. If more activity is needed, we will recommend alternative options like physical therapy in Pompano Beach.
Lower back pain can be treated with our therapeutic procedures and physical therapy depending on the patient and their needs. Sometimes, there needs to be a combination of both physical therapy and chiropractic therapies to nurse a joint back to its full potential. If a patient is not pleased with one or the other therapies, Dr. Appleton will listen to the needs of our clients and include physical therapy sessions in Pompano Beach if needed. Working with the rehabilitative exercises can rebuild and joints and muscles that were injured or dislocated.
Chiropractors normally perform procedures such as spinal manipulation for their clients so their clients can restore their joints to their full potential. There are no drugs involved with spinal manipulation or physical therapy at Appleton Chiropractic Center. Controlling and applying force in the joints is what rebuilds the injury back to health. While many people seek drugs when they experience pain, they are not aware that chiropractic and physical therapy are far more safe and effective when dealing with discomfort. Masking the pain does not relieve the problem like physically adjusting the joints do. Pain medication may also make it the problem worsen with time.
Our chiropractic and physical therapy services in Pompano Beach treat the injury at its source so effective healing can take place. Don't go any longer with the annoying pain that a few treatments of physical therapy or chiropractic procedures can cure. At Appleton Chiropractic Center, we provide our clients with personalized service to meet their exact needs. Let Dr. Appleton do the same for you. Call today, be seen today 954-973-0710.