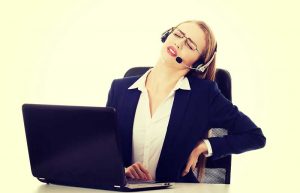 Over the years, Appleton Chiropractic Center in Pompano Beach has helped people with a variety of work injuries and ailments through a customized chiropractic treatment plan. One area that has always been common for us is work injuries (both for prevention and treatment!). How can Pompano Beach Appleton Chiropractic Center help you?
Did you know that the biggest reason for lost work time is musculoskeletal pain? Problems such as back pain have been causing employees (and employers!) hassle for generations, but our Pompano Beach chiropractic solution could be the answer. In fact, it has been proven to be very effective when dealing with sciatica, lower back pain, and even neck pain.
Save Money Today
As well as the health benefits of chiropractic care, we should also note the opportunities you have to save money. According to one study from the Journal of Occupational and Environmental Medicine, employees who regularly visit a chiropractor generally spend less money on health care.
Additionally, there's also research to suggest that chiropractic patients reduce their likelihood of missing work by 50%. According to the Department of Labor, the problem of missed work is now extensive and is thought to cost $61 billion every single year. With chiropractic care, less time is lost and recovery times can improve (which benefits everybody!).
Natural Solution
Why choose chiropractic care? For one thing, it's a natural solution that avoids the use of medications (something that has been linked with a disability when used in excessive amounts). Not only is it a natural treatment, but it's also one that treats the root cause rather than the symptoms alone.
Appleton Chiropractic Center in Pompano Beach has highly qualified professionals with experience and skills in all the right areas. We'll aim to help with repetitive injuries, such as carpal tunnel syndrome, and any injuries made worse by your work. We are also one of the few experienced chiropractic offices that provides deep tissue MLS© Robotic Laser therapy. With us, hopefully you'll no longer take as much time from work meaning that our service almost becomes an investment (both in money and in your health!).
If you have any questions about our services, please contact us today at (954) 973-0710.