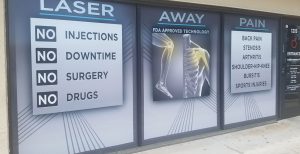 If you are looking for the best Pompano Beach chiropractor, we are one of the leading Pompano Beach chiropractors. On our website, residents of Pompano Beach and its surrounding areas will see all of the great things that we can offer our patients. Next time you are thinking about "where is the best chiropractor near me", make Appleton Chiropractic Center in Pompano Beach your first call. When you visit us, you will say "Bye Bye Pain".  Learn more about who we are and why we do.
Who We Are
We have over 30 years of experience in Pompano Beach chiropractic care. We take a great deal of pride in our knowledge in the area, as well as how happy our patients are after receiving treatment. We are passionate about making our customers say, "Bye Bye Pain", which is why we are always striving for excellence here. As a result of all of this, we always stay up-to-date with the latest treatment methods so our patients get the pain relief that they desperately seek. We use MLS laser treatments as a form of pain management.
What is MLS Laser Therapy?
MLS laser therapy uses low-level laser therapy in order to offer non-invasive pain relief and ease inflammation. There are a lot of people who may have tried various other treatments for pain management but have had little success getting pain relief. That's why MLS laser therapy can be a great option for you.
MLS therapy, which is can also be referred to by the term "cold therapy" in some situations, is a great solution for a variety of different pain including pain that has been caused by a car accident. This is most commonly used to help people find relief from arthritis and sciatica pain. MLS laser therapy typically utilizes high-powered, class 4 lasers. In some cases, these lasers are very similar to the lasers that you see with a laser pointer.
MLS laser therapy can help with a variety of different conditions, including most commonly used for these ailments:
Scarring
Pre- /Post-Surgical pain
Spinal compression
Sciatica
Slipped or bulging discs
Muscle strains, tears, and sprains
Injuries to soft tissues
Arthritis
Tendinitis
Bursitis
Other degenerative conditions
This is becoming a popular method of treatment at chiropractic care centers because it is highly effective and non-invasive.
The Difference With Our Pompano Beach Chiropractic Office
You can get MLS laser therapy and chiropractic care at a lot of different places, but the experience that you will get here is what makes our company stand out. Dr. Appleton is someone who not just cares about his job, he also cares deeply about getting the patients back to their everyday life. Too often, people suffer from chronic pain and are unable to find any type of relief to function normally. You may have tried everything, but did you try visiting a chiropractor? Dr. Appleton is highly knowledgeable and experienced, but most importantly he truly cares about each of his clients. To him, there is no greater joy than offering someone the pain relief that they have been desperately seeking. Those smiles help Dr. Appleton know that he has had an impact on the lives of his patients.
Did you know that back pain is the second most common neurological condition in the United States? Dr. Appleton works hard to ensure that these patients can get the most out of their life. Not only can he help you with pain, but he can also assist with preventative measures that keep you healthy and heal any damage that may have been done in the past.
Have you ever thought "Where is the best chiropractor near me open Saturday"? Then you have come to the right place. Dr. Appleton believes that people should have access to this care, so he stays open on Saturday to be more available for patients who want to take control of their pain.
When you come to our facility, you will get to take advantage of our new MLS Robotic Laser therapy. This is one of the best new approaches to chiropractic care.
Why MLS Laser Therapy is the Best Choice
The benefits of MLS therapy cannot be ignored. Having the ability to function normally on a regular basis is priceless for most people because they want to be able to enjoy their life. They want to go to work to support their family. They want to go to ball games or dance recitals. If other methods of pain management have not worked for you in the past, it's time to take a new approach that can be effective in treating the pain of all types.
It's non-invasive, meaning that you don't have to worry about needles or a lot of pain when you are getting this treatment. There are no long courses of medication that is required, especially medication that may have negative side effects and can be potentially addictive. There are no side effects to these treatments, something that is quite beneficial to patients. Rather than having limited mobility or other recovery times normally associated with chiropractic care, you can get back on your feet without downtime.
People just feel better after receiving this therapy, which is the end result that we are looking for. Chiropractic care is a necessary approach to pain and MLS laser therapy only makes chiropractic care even better for patients. That is why Dr. Appleton included this approach in his practice. It's all about having the latest technology to give your patients the best care that they can get. Traditional treatments may have had their time in the past, but now is the new approach to this ancient medicine. It's time to say, "Bye Bye Pain" and enjoy your everyday life.
Come to Our Pompano Beach Chiropractor for Your Chiropractic Care
If you are looking for chiropractic care in Pompano Beach and the surrounding areas, Dr. Appleton is the person to see. Whether you have had an injury, been in a car accident, or struggle with chronic pain, Dr. Appleton is the person to trust for all of your chiropractic care needs. It's time to wave "Bye Bye to Pain" and enjoy the things that make you happy.